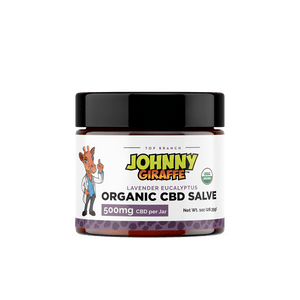 CBD Salve
Our soothing CBD Salve is a fully organic product that's been formulated with the finest organic ingredients to help ensure optimal skin health and help you keep your muscles and joints in great condition.
We use a perfectly-balanced combination of ingredients that includes organic eucalyptus and lavender essential oils, organic beeswax, organic MTC oil, and phytocannabinoid-rich organic hemp extract. These ingredients can be especially beneficial for people dealing with sore muscles and joint pain or those who want to keep their skin nourished and deeply moisturized.
The broad spectrum, premium pharmaceutical-grade CBD used in our Organic CBD Salve is mixed with natural ingredients that together create a soothing product perfect for your skin, joints, and muscles. All of our topical CBD products are made in the USA, ensuring the highest quality and efficacy.
What Is CBD Salve?
CBD Salve is a topical CBD product that's intended to be applied to the skin. The salve contains an array of ingredients that can be used for a wide range of purposes.
Topical products are not intended to be ingested and are instead for external use only. They are typically used for localized relief, such as when you're dealing with any tension on your skin, muscles, or joints.
Topical CBD products can be used to provide deep-tissue relief or to moisturize and nourish the skin. They come in the form of lotions, creams, balms, and more.
Why Should You Start Using a CBD Salve?
While a lot of Johnny Giraffe customers are likely to first try products intended for oral consumption, at some point they may also be eager to introduce CBD into their daily routines in other, equally beneficial ways. This means that if you want to start using CBD to moisturize your skin, or you need an effective way to soothe joint swelling or muscle soreness, you're in the right place. People often mention that they actually notice when our CBD absorbs into their skin.
Our Organic CBD Salve is an excellent choice for those who want to experience the benefits of broad-spectrum CBD. The only thing you need to do is apply this CBD topical salve directly to your skin.
Your skin is the largest organ of your body, meaning that it allows for quick absorption of CBD-based topicals and remarkably fast effects. Our topical CBD Salve takes effect shortly after the product is absorbed into the skin. The only thing that you need to do is rub and massage your CBD salve thoroughly on the parts of your body that are in need of pain relief or could benefit from CBD's soothing and anti-inflammatory properties.
Unlike tinctures, oils, or edibles, which have to be ingested and then metabolized by your body before entering your bloodstream and starting to work, salves can be applied locally and directly with great accuracy. This way, you can directly target the parts of your body that need it the most!
How to Use CBD Salves?
When you're ready to start using our CBD salve, all you need to do is apply a small amount of the product directly to the area of your body that needs relief. You can then massage the salve into your skin for about one minute before allowing it to absorb. The topical application of our CBD salve is a fast and convenient way to target specific areas of your body with CBD.
Since CBD is non-psychoactive, you don't need to worry about feeling high when using our products.
If you want to see how our CBD salve will work for you, it's recommended that you start by applying a small amount of the product to a small part of your skin. This can help you see how your body reacts and how much of the product your skin can absorb. If you notice any skin irritation or discomfort after using our CBD Salve, discontinue use immediately and contact us if needed.
Are There Any Side Effects?
Since our CBD Salve is made with natural ingredients, it's unlikely to cause any side effects when used appropriately. However, if any irritation does occur due to external factors, it's recommended that you immediately discontinue use and contact your healthcare provider if needed.
Like all CBD products, our CBD Salve is not intended to diagnose, treat, cure, or prevent any disease. This product is also not intended for children or pregnant or lactating women. It is not for use if you are under 18 years of age. Please consult your physician before using this product.
If you have a medical condition or take pharmaceutical drugs, please consult with your doctor before using our CBD salve. If you are allergic to any of the ingredients listed on the label, do not use this product. Always try a small amount of the product on your skin before applying it over a larger area of your body.
CBD Salve FAQ
CBD-based products offer numerous benefits, ranging from pain management to skin health. If you're interested in learning more about them, here are some of the most commonly asked questions about topicals such as CBD salves and CBD in general.
What does a CBD salve do?
CBD salves are intended to be applied to the body to relieve soreness, itchiness, pain, and other conditions that may be bothering you, or causing pain and general discomfort. That's because CBD salves are highly effective in pain management and inflammation reduction.
However, it's essential to remember that topicals of all kinds, including salves, should only be used externally. Even though salves are used to promote healing of the skin, they should never be applied on open wounds or broken skin, as doing so can cause irritation.
Does CBD salve work for nerve pain?
Nerve pain occurs when a certain health condition, such as nerve pressure or nerve damage, among others, affects the nerves responsible for carrying sensation to the brain. Hemp-derived CBD products, such as Johnny Giraffe CBD salve enriched with essential oils, can help support healthy inflammation response and support pain relief.
Additionally, numerous users swear by the effectiveness of CBD topicals to improve symptoms associated with nerve pain.
Can CBD salve help you sleep?
We live in a hectic world that demands us to work hard and hustle in order to achieve our goals. Leading such a busy lifestyle, combined with working a stressful job or being responsible for a number of different chores, can make getting enough sleep at night pretty challenging.
Still, this doesn't change the fact that adults need from 7 to 9 hours of sleep each night to rest properly. Nonprescription CBD products such as Johnny Giraffe CBD gummies or CBD Softgels can be consumed up to an hour before bedtime to help you unwind and de-stress after a long day of work.
Furthermore,CBD salves can be applied to the skin with close to no effort and support localized relief, allowing you to relax, and improving both your sleep quality and quantity. This means that Johnny Giraffe broad spectrum 500mg CBD salve enhanced with calming lavender essential oil and soothing eucalyptus essential oil can be used as a natural sleep aid.
Can CBD oil be used as a salve?
Both broad and full spectrum products, including Johnny Giraffe full-spectrum Lifted Lime Organic CBD Oil Tincture and broad-spectrum Unbent Mint Organic CBD Oil Tincture can be applied topically. Using tinctures topically is incredibly easy, as all you need to do is use a dropper to put the substance directly on your skin and gently rub it in.
However, with Johnny Giraffe CBD Salve there's no need to use tinctures as topicals. Our salve is a carefully composed, third-party-tested product enriched with organic ingredients such as lavender and eucalyptus oils, organic beeswax, and organic MTC oil.
Our CBD Salve absorbs into the skin with ease and can work even more effectively than a CBD oil tincture for muscle soreness, pain, as well as skin inflammation, itchiness, or dryness.
How long does it take for CBD salve to start working?
CBD salves usually need anywhere from 1 to 20 minutes to provide first effects. For some, this may seem like quite a long time, but in fact, most traditional over-the-counter topical pain relievers can take between 30 minutes and 1 hour to start working.
Is topical CBD absorbed into the bloodstream?
CBD topicals, also known as transdermal CBD creams, are intended to be applied directly to the skin. Using topical cannabidiol oil products allows you torub cannabinoids into your body for localized relief.
Once applied in the topical form, CBD is slowly released over time directly into your skin. This allows for pain relief and deep skin hydration and supports a healthy inflammation response for several hours at a time.
How much CBD salve do I use?
The amount of CBD salve that you should use depends on factors such as the severity of the condition you're dealing with and the potency of your product.
For instance, if you want to use your salve for light knee pain that's not too uncomfortable, but enough to disrupt your daily routine, you won't need as much salve as you'd need if you wanted to soothe muscles that are very sore after an intense session of upper body workouts. It's essential to use the amount of salve that's adequate to the amount of pain you're experiencing.
How do I apply the CBD salve?
When it comes to CBD balm A.K.A. salve, you can safely use your fingers to safely apply a thin layer of product to the area affected by pain, inflammation, or swelling. The same goes for situations where you're using the salve to nourish and moisturize your body. Make sure to distribute the product evenly, gently rub it in, and give it time to work.
If you deem that you need to apply more CBD salve to the affected area, you can do so. Just keep in mind that if you put on too much product, scooping it back into the jar might be challenging and you may end up wasting some of your salve.
What other ways do people use Johnny Giraffe Organic CBD salve?
Since Johnny Giraffe CBD contains organic beeswax and organic eucalyptus leaf oil, some use our CBD salve as CBD balm for their lips as well as ashy, dry skin. It only takes a very small amount for theses quick remedies and can save you the embarrassment, pending the situation. If you try it, this could very well become your first option instead of your last.
What medications should not be taken with CBD?
CBD has grown in popularity and become more widely known as a solution that can provide support for people dealing with different health concerns. However, when used along with certain medications, even this natural substance can cause some unpleasant side effects.
Due to cannabidiol's potential to interact with over-the-counter medications, herbal products, and prescription medications, it's best to avoid using your Organic CBD Salve or CBD Atheltic Cream along with other topical products, for instance, acne or eczema creams, gels, or balms.
CBD tinctures, softgels, edibles, vapes, and other products intended for ingestion should not be taken or used with drugs such as amiodarone, which is a hearth rhythm medication, or clobazam, used in the treatment of Dravet syndrome, a severe form of epilepsy.
A thyroid medication known as levothyroxine also shouldn't be mixed with CBD. The same goes for common antiepileptic drugs valproate and warfarin - blood thinners used to prevent blood clots.
For more information, you can explore this list of NTI Meds that need to be Closely Monitored when co-administered with cannabinoids, created by researchers from Penn State College of Medicine.
Does CBD oil cause liver damage?
In extremely high doses, CBD can actually be damaging to the liver. However, there's no reason to avoid taking CBD-based products for this sole reason, because as long as you're using your products correctly and following instructions provided by the manufacturer, you don't need to worry.
Nevertheless, keep in mind that, since products with CBD that are intended for oral ingestion are metabolized by the liver, people dealing with liver disease should refrain from taking them. This will allow for avoiding potential CBD-drug interactions and reduce the stress on the liver.
What are the side effects of CBD ointments?
CBD ointments, such as salves, are intended to be applied topically. This means that even though CBD topicals are generally well-tolerated by most people, even those with quite sensitive skin, they can still cause contact allergies.
If you apply CBD salve to your skin and notice any itching, redness, or any other unusual symptoms, simply wash the ointment off and observe the condition of your skin. If it doesn't improve or gets worse over time, contact a healthcare professional.
Other side effects caused by CBD-based products may include:
dry mouth,
dry eyes,
diarrhea,
mild nausea,
reduced appetite,
drowsiness,
fatigue.
Before using any CBD-based product, always make sure to read the label and familiarize yourself with all the information provided by the manufacturer. Additionally, to experience all the benefits of CBD and minimize the risk of experiencing side effects, purchase high-quality products that went through the process of third-party testing.
On top of that, remember to check the company's certifications and the potency of your products. Always look for indicators of the brand reputation such as customer reviews or check whether the company has ever received any warning letters from the Food and Drug Administration.
Does CBD cream show in a drug test?
CBD is one of the compounds found in the cannabis sativa plant. CBD is non-intoxicating and will not give you a so-called "high." This feeling is caused by a different cannabinoid that's also found in the cannabis plant - tetrahydrocannabinol (THC).
Most of the commonly used drug tests that you may be subjected to do not specifically screen for CBD, so, in the vast majority of cases, you do not need to worry about them detecting CBD in your system.
However, the THC content of your products can and, in most tests, will probably show up. This could cause you to fail the test. Luckily, there are several types of CBD oils. Full-spectrum CBD products have trace amounts of THC, but in order to be sold legally, cannot contain more than 0.3 percent THC. Broad-spectrum CBD usually doesn't contain any THC, but some broad-spectrum products still may contain trace amounts of this cannabinoid.
If you regularly take drug tests, be it for work or any other reasons, your safest option is either broad-spectrum CBD or CBD isolate, which contains CBD only and is completely free of the other cannabinoids and compounds from the cannabis plant.
Is CBD legal?
The signing of the 2018 Farm Bill removed hemp from the legal definition of marijuana stated in the Controlled Substances Act. This made some of the CBD products derived from the hemp plant and containing less than 0.3 percent THC federally legal.
In the US, you can purchase CBD legally as long as it doesn't contain more than 0.3 percent THC. Some states also allow you to buy and possess CBD only if you have a prescription issued by a medical professional.
If you intend to travel outside the US and wonder about the legal status of CBD at your destination, keep in mind that even though CBD is legal in most countries, you should still check the laws of the countries you travel to carefully.
This way, you will learn more about the legal status of CBD at your destination and make sure you're not breaking any foreign laws by using, purchasing, or bringing CBD products with you.
Is CBD regulated by the FDA?
Currently, the Food and Drug Administration (FDA) does not regulate CBD. This means that when buying CBD salve or any other CBD product, it's your task to ensure that you're getting a high-quality product. Remember that the FDA has not approved nonprescription CBD products. Therefore, it's possible that you may find products that are inaccurately labeled.
To make sure your products contain less than 0.3 percent THC, pay attention to characteristics like CBD strength and total CBD milligrams, which should be listed on the packaging of the product you intend to purchase. Try checking if the product you intend to purchase has been tested by a third-party lab for safety, potency, and purity.
INGREDIENTS :
Organic MCT Oil, Organic Beeswax, Phytocannabinoid-Rich Organic Hemp Extract, Organic Lavender Essential Oil and Organic Eucalyptus Essential Oil.
Not all CBD companies are the same.  Johnny Giraffe values your health and wellness, and would only provide you the best. We use only the highest quality, Top Branch ingredients in our products and make sure every batch of our CBD products are third-party tested for potency and contaminants. Order your CBD salve today and use it as often as you like. You will not be disappointed.