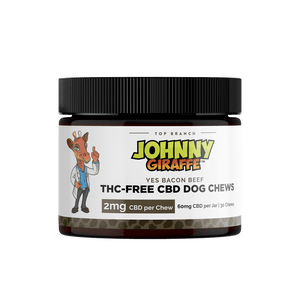 Here at Johny Giraffe, we know that dogs are the best friends a person can have. They are loyal to a fault, never leave your side, and will do everything in their power to brighten your day. We also understand how important it is to properly care for our fluffy companions.
With that in mind, we're proud to announce our new premium offering - CBD dog treats. Get your puppy ready, because this product will make them more satisfied than ever!
Are you afraid that your doggie won't like the taste of CBD? No worries here - our top-quality CBD dog treats are bacon beef flavored, meaning that no dog will be able to resist their exquisite taste. You might actually have to hide your CBD dog treats to prevent your lovely companion from devouring all 30 soft chews in one go!
Our CBD dog treats are easy to digest, ensuring that your pet will enjoy the full effects of CBD quicker than you expect. To maximize the absorption and guarantee the best results for your dog, we made Johnny Giraffe's CBD dog treats with our premium phytocannabinoid-rich hemp extract in the form of a water-soluble powder.
CBD is not the only useful compound our dog treats have. Johnny Giraffe's CBD dog treats contain a broad spectrum CBD extract, meaning that your beloved fluffy friend will also experience the effects of other premium quality cannabinoids and terpenes. To make it even better, our product contains no THC at all!
Buy the best CBD dog treats now and give your lovely pooch the care it deserves!
For your convenience, here is the list of ingredients you can find in our CBD dog treats:
Water-Soluble Phytocannabinoid-Rich Hemp Extract Powder, Water, Dried Brewer's Yeast, Glycerin, Gum Arabic, Sodium Alginate, Beef Liver Powder, Natural Bacon Flavor, Flaxseed Oil, Microcrystalline Cellulose, Organic Sweet Potato Powder, Sunflower Lecithin (Non-GMO), Citrus Pectin, Vitamin E, Sodium Propionate, Calcium Sulfate Dehydrate, Natural Mixed Tocopherols (Natural Preservative) and Dextrin (Corn Derived).
CBD Dog Treats FAQ
What Is CBD?
To help you better understand our product, let's talk more about the main ingredient used in our CBD soft chews.
CBD, short for cannabidiol, is one of the most popular cannabinoids naturally found in hemp and cannabis plants. It can promote a sense of physical and mental wellness in humans and animals alike.
CBD is often confused with its more infamous cousin, THC - the main psychoactive compound found in cannabis plants. However, cannabidiol differs from both traditional Delta-9 THC and its weaker variant, the Delta-8 THC in that CBD is non-intoxicating. In other words, neither you nor your pet will get high from consuming CBD.
It is also worth noting that CBD is pretty versatile, as it is often added to many different types of products. Apart from CBD soft chews, cannabidiol can also be found in CBD softgels, CBD gummies, CBD oils, CBD salves, or even CBD athletic creams.
Are CBD Treats Good for Dogs?
CBD is usually well-tolerated by dogs, provided that it is consumed in reasonable amounts. In other words, responsible consumption shouldn't negatively impact your dog's health.
For maximum safety, our CBD dog treats are THC-free. Unlike CBD, THC can be toxic to dogs and its high concentrations might cause vomiting, seizures, and even comas.
So, if you want to ensure that your dog will experience the effects of CBD and enjoy something delicious at the same time, our CBD soft chews are definitely the way to go. They are easy to digest and have a distinct bacon beef flavor that your pet will fall in love with!
What Are the Benefits of CBD Dog Treats?
CBD treats for dogs are very tasty, and can provide a wide range of potential benefits to your fluffy companions. These may include:
Promoting relaxation and healthy stress levels.
Supporting healthy skin.
Supporting a healthy sleep cycle.
Supporting natural gastrointestinal wellness.
Supporting joint health.
Will CBD Dog Treats Calm My Dog Down?
Perhaps the biggest advantage of CBD pet treats for dogs is that they promote a calm and relaxed mood in dogs. This can be very useful in a number of situations:
Long-Term Separation
Dogs are social animals by nature and usually don't like being away from their owner. As such, your anxious pet can be prone to howling, excessive barking, chewing on furniture, and other destructive behaviors when left alone for extended periods of time.
CBD treats for dogs may help you in such situations by supporting healthy stress levels in your pet. This way, your furry friend might be able to better cope with separation anxiety and won't end up showing unwanted behaviors.
Veterinary Visits
No one likes going to the doctor, not even the friendliest of dogs. However, sometimes it is necessary for their own good. If you have a particularly anxious pooch that dreads veterinary visits and refuses to behave during the check-up, giving your companion calming soft chews with CBD may be a good idea here.
CBD is well known for promoting relaxation and calmness, which may be just what your dog needs to get through its vet visits.
Visiting New Places
Dogs are very curious creatures and love to explore their surroundings. Still, sometimes they can be scared of new places, especially if they're crowded or if there are other pets present. CBD treats for dogs may help your furry friend feel more at ease in such situations, allowing them to better enjoy their time exploring.
Loud Noises
Noise phobias are not uncommon in dogs, with some of the most common triggers being fireworks, thunderstorms, or vacuum cleaners. If your dog is particularly afraid of sudden and intense sounds, CBD soft chews may make it easier for them to cope.
Are CBD Treats and CBD Oil Safe for Dogs?
CBD dog treats shouldn't cause any adverse reactions if you stick to the recommended doses. The same applies to CBD oil - after all, it has the same key compound in it.
As mentioned above, THC is the problematic compound here and should not be given to pets. In fact, when it comes to dogs, it's safer to aim for a broad spectrum CBD oil than a full-spectrum CBD oil to avoid the trace amounts of Delta-9 THC. Luckily, our CBD treats are both THC-free and broad spectrum!
How Many CBD Treats Should You Give Your Dog?
There is no straight answer to how many CBD soft chews pet parents should give to their animals. The impact of CBD on your dog will depend on a variety of factors, such as the size and weight of your fluffy friend, its metabolism, or any health conditions that it might be dealing with.
Nonetheless, some generalizations can be made. It's always better for dog owners to start with a lower CBD dosage and increase it based on their pet's needs and behavior. You might want to start with 2mg of CBD per every 10 pounds of your dog's body weight. Our product makes it very easy to calculate the dose, as each CBD dog treat contains exactly 2mg of CBD per chew.
For an adult Maltese weighing 5 lbs, you won't need much - 1mg or half a CBD treat per day should be a great starting amount. On the other hand, an 80 lbs adult Golden Retriever may need 8 treats (or 16mg of CBD) to feel the same level of effects.
In addition, instead of giving all of the treats to your dog at the same time, it might be a better idea to serve them two times a day.
Can You Give Dogs CBD Treats Every Day?
Pet owners can give their dogs CBD treats every day if they feel that it benefits the animals. However, as with any other supplement, it's best to give your dog a break if you observe any unwanted side effects.
How Long Does It Take For CBD Treats to Work?
CBD pet treats are much tastier than your traditional CBD oil, but the onset time is also a bit slower. Before your dog can feel the benefits of CBD, the CBD treats need to be absorbed in the stomach. In general, you can expect your dog to feel the treats' first effects between 45 to 90 minutes after consumption.
Are CBD Dog Treats Legal?
Yes, just like CBD oil, CBD soft chews are legal. CBD products can be sold and purchased as long as they don't exceed the federally imposed limit of 0.3% THC. As our CBD dog treats are THC-free, they are completely legal.
What Are the Potential Side Effects of CBD for Dogs?
As mentioned above, CBD is usually well-tolerated by both humans and animals, meaning that consumption shouldn't cause any adverse side effects. In rare cases when it happens, your dog may experience dry mouth, lowered blood pressure, or slight drowsiness.
To minimize the chance of side effects occurring, it's best to avoid exceeding the recommended doses. Theoretically, there is also a slight risk of interactions between cannabidiol and prescription medicine, so it's always good to consult your veterinarian before mixing anything.