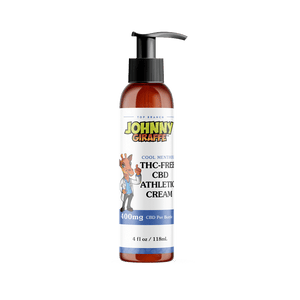 At Johnny Giraffe, we think that each of our clients deserves the highest-quality products, including the best CBD sports cream that can become a staple in your gym bag. To ensure your satisfaction, we decided to introduce our premium CBD Athletic Cream.
This THC-Free 400 mg CBD sports cream is formulated with menthol and camphor to support healthy muscles in an active lifestyle, making it a great choice if you are into running, cycling, playing golf, or other sports activities. Apply CBD sports cream during or after a workout to keep pursuing your fitness goals.
We have no doubts that our 4oz pump container will become your product of choice when it comes to CBD topicals. It can help you achieve your performance goals, improve your personal record for the 5K, 10K run, or marathon, or make it easier to increase your stamina for playing sports in a league, a day trip throughout town, or training at the gym.
With Johnny Giraffe's broad-spectrum CBD Athletic Cream, you don't need to worry about the effects of THC, as it's a 100% THC-free, vegan product made with organic, non-GMO ingredients. For more details, you can click here to see lab reports.
At Johnny Giraffe, we're dedicated to using proven methods and high-quality ingredients to make the best CBD products, so you can have a worthwhile experience. We are committed to giving you only the best phytocannabinoid-rich, organic CBD!
CBD Sports Cream FAQ
What Is CBD?
To fully understand the product that CBD sports cream is and grasp its benefits, you first need to know the basic facts about its main ingredient - CBD.
Cannabidiol (CBD) is one of more than 100 cannabinoids that are naturally found in cannabis and hemp plants. Unlike compounds such as Delta-8 or Delta-9-THC, CBD doesn't produce euphoric effects nor does it make you intoxicated. In a nutshell, CBD won't make you high, which is of utmost importance, especially for athletes.
Thanks to its natural properties, CBD can be used to support physical well-being.
Today, CBD is available in a wide range of products. You can find it in softgels, gummies, traditional solutions such as CBD oil tincutres, other topical products like CBD salves, or even dog treats.
In general, CBD is safe to take. However, it's still always a wise idea to consult with a health care professional first if you are taking some medications. This way, there won't be a risk of dangerous interactions.
What Are the Benefits of CBD?
CBD offers its users a wide range of benefits. Learning more about them can help you understand this compound better. Here are some positive effects you can experience when using Johnny Giraffe's product of your choice, be it CBD sports cream, tincture, or our softgels.
Many unique health advantages of CBD are well documented. It is used by thousands of people to improve their diets. Additionally, there is something for everyone because CBD products are readily accessible and offered in a variety of formats.
Deep, restful sleep, a healthy lifestyle, and proper immune system function are all supported by CBD. Additionally, the FDA has authorized a CBD-based medication for the treatment of the rare epilepsy conditions Lennox-Gastaut syndrome and Dravet syndrome.
What Does CBD Athletic Cream Do?
Although CBD is typically ingested, there are topical CBD creams and other CBD topicals designed to deal with muscle pain and joint pain. One of CBD's numerous benefits is its ability to manage different conditions that athletes experience, such as muscle soreness. That's because of CBD's ability to penetrate the dermal and subdermal skin layers, reaching much further than just the surface of the skin.
Applying a CBD topical to the skin can help you with skin problems, as well as pain and inflammation in the area, but also provide topical pain and ache relief. With our CBD Athletic Cream, you will be able to enjoy the benefits of ingredients such as vegan menthol, phytocannabinoid rich hemp extract, Organic Mentha Piperita (peppermint), and bark oil.
How to Use CBD Athletic Cream?
You can use it before, during, or after exercise and keep moving throughout the day. All you need to do in order to enjoy the benefits of a sports cream is to apply it to joints or muscle strains as needed to quickly relieve any discomfort.
Additionally, for a pleasant, cooling sensation and quick pain relief, you can apply a small amount of CBD sports cream to targeted areas before and after increased physical activity. Do not apply CBD sports cream to damaged and broken skin.
Is CBD Cream Good for Athletes?
CBD cream supports healthy inflammation levels, and could help you deal with muscle fatigue, and discomfort, leading to improved wellbeing and performance. Athletes use CBD creams during workouts to relieve the pain or tension in the muscle and joint areas. Applying topical CBDmay help also help bring down swelling resulting from injuries.
CBD sports cream can be a particularly good choice for athletes because it does not generate a dependency like certain prescription pain relievers can. Using a CBD topical such as sports cream is a safe and effective way to alleviate pain for athletes.
Is CBD Illegal for Athletes?
CBD sports cream can be an excellent natural alternative for athletes dealing with pain and inflammation because it does not appear on drug testing. However, it's still important to keep in mind that while CBD should not cause you to test positive for THC on a drug test, there are several sports leagues and organizations that prohibit the use of THC. Luckily, with Johnny Giraffe's broad-spectrum CBD sports cream you don't have to worry about this compound.
To ensure that, as an athlete, you're using THC-free products, it's always wise to double-check label claims. Keep in mind that if you get your CBD products from an untrustworthy source, the risk increases. Therefore, it's advisable to stick to reliable CBD companies such as Johnny Giraffe that have been third-party tested and sell only the best CBD creams and other high-quality CBD products.
Does CBD Cream Help Sore Muscles?
CBD sports cream can be a perfect solution for your sore muscles. A high-quality topical CBD with cooling menthol should help you relieve temporary muscle soreness after intense workouts.
You can also choose to enhance its effects by taking oral CBD in the form of CBD softgels or CBD oil, which can also reduce muscle soreness when taken immediately after a workout.
Does CBD Cream Calm You?
In general, people apply CBD skin creams directly to the affected area of the body, be it a painful knee, sore shoulder blade muscles, or an aching elbow. CBD creams and lotions can provide immediate relief at both the surface and deeper muscle levels.
If post-workout pain is keeping you up at night, you'll be pleased to learn that CBD topicals can also aid relaxation and help you sleep better. Hence, if you're experiencing trouble falling asleep after working out late in the day or experience anxiety connected to your overall athletic performance, you can include our cooling cream and other Johnny Giraffe products in your recovery regime.
What Are the Side Effects of CBD Ointment?
While some of the most common side effects of CBD include dry mouth, drowsiness, diarrhea, reduced appetite, and fatigue, this is only true for the kind of CBD products that are meant to be taken orally or consumed. For this reason, things are a bit different when it comes to products such as CBD sports cream.
According to the American Academy of Dermatology, an itchy rash, known as contact dermatitis, might be a side effect of using a CBD skin cream. However, the AAD also notes that this can be a side effect of virtually any topical lotion, not just CBD skin creams.
When shopping for CBD topicals, it's also advised to pay close attention to the labels and always read the labels. If you don't know one of the ingredients, do not hesitate to perform a simple Google search in order to learn more about it.
Additionally, refrain from buying topical CBD products containing ingredients that you're allergic to or had a bad skin reaction to in the past. These may include, for instance, coconut oil.
Luckily, our CBD Athletic Cream does not contain this ingredient. Instead, they include nourishing and are considered safe for most people ingredients such as shea butter or aloe vera. With our CBD sports cream, skin health won't be a concern!
Does CBD Cream Make You Drowsy?
Drowsiness is among some of the most common side effects of CBD. However, as mentioned above, topical CBD products, such as our CBD sports cream, are not intended for injection and therefore are highly unlikely to make you feel drowsy.
Still, if you want to ensure that you will be able to perform to your full potential after using CBD sports cream, you can use it on an exercise-free day and monitor your reaction. If you experience any side effects, make sure to contact your doctor and let them know about your concerns.
Why Are Athletes Using CBD?
Using broad-spectrum, THC-free CBD products, such as our CBD Athletic Cream, is a safe and natural way for athletes to deal with the effects of workouts and support their muscles before, during, and after intense workouts.
It is only natural that athletes often look for different ways to aid recovery and boost their performance, with CBD being an increasingly popular, generally safe, and natural solution.
---
INGREDIENTS
Water/Aqua, Organic Olea Europaea (Olive) Fruit Oil, Menthol, Organic Glycerin, Cetearyl Glucoside, Cetyl Alcohol, Sorbitan Olivate, Gluconolactone, Carthamus Tinctorius (Safflower) Oleosomes, Cinnamomum Camphora (Camphor) Bark Oil, Phytocannabinoid-Rich Hemp Extract, Xanthan Gum, Sodium Benzoate, Sodium Stearoyl Glutamate, Potassium Sorbate, Tocopherol, Organic Lavandula Angustifolia (Lavender) Oil, Organic Rosmarinus Officinalis (Rosemary) Oil, Organic Mentha Piperita (Peppermint) Oil, Organic Gaultheria Procumbens (Wintergreen) Oil, Organic Origanum Majorana (Sweet Marjoram) Oil, Organic Aloe Barbadensis Leaf Juice, Sodium Chloride, Calcium Gluconate.