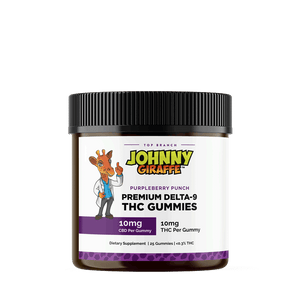 In search of a potent CBD + THC gummy that will bring you to new heights? Good news: you've found our strongest gummy yet.  Johnny Giraffe's newest and highest strength gummy is definitely one for the THC connoisseurs out there. Crafted with the perfect blend of blackberry and fresh citrus along with 10mg of Delta-9 THC and 10 mg of Organic CBD, these gummies pack a punch, and the flavor (pun intended) says so. 
These gummies are NOT for beginners, do not let the smooth taste fool you!
Potent, 10mg of Delta-9 THC
Farm Bill compliant
Hemp-derived and no artificial cannabinoids
Vegan & gluten-free
Supercharged with a blistering 10mg of THC per gummy, Johnny Giraffe CBD + Delta-9 Purpleberry Punch Gummies will have you soaring, doing endless mental cartwheels, blissful with every bite.
Our new proprietary formula leaves out discernible "hempy" taste, then calls upon a bright, summery blend of natural blackberry and citrus flavors.  As you indulge in these gummies and lose yourself in the intoxicating pairing of sweet, lush blackberry and crisp, citrusy lime, we're confident you'll keep smiling.
Boasts amazingly strong benefits, tastes wonderful, and encourages the entourage effect.
In addition to its impressive THC content, every Johnny Giraffe CBD + Delta-9 Purpleberry Punch Gummy is packed with 10mg of CBD. This synergistic pairing helps you unlock the full wellness-promoting powers of the hemp plant—as nature intended.
Unlike other gummies, we shun animal-derived gelatin—instead, we create the fun, chewy texture you love with vegan-friendly pectin, a soluble fiber naturally found in fruits.
Johnny Giraffe CBD + Delta-9 Purpleberry Punch Gummies are also made without artificial sweeteners, gluten, and corn syrup.
So, if you have a sensitive stomach or prefer to steer clear of questionable ingredients, consider these gummies your new BFFs.
Oh, and if you want evidence that our gummies truly contain everything we say they do and will do what we say they will do, you'll be pleased to know that we don't just offer proof.  We offer proofs!

Like all our products, we subject Johnny Giraffe CBD + Delta-9 Purpleberry Punch Gummies to two rounds of testing for purity, potency, efficacy, and safety.
The first is conducted on the raw CBD oil extracted from our 100% USA-grown, non-GMO, and federally legal hemp. Then, to ensure objectiveness, a third-party, ISO-accredited lab does the second (and final) round of rigorous testing on our finished products.
We never hide the results of these lab reports. Because we have no reason to.
So, every jar of Johnny Giraffe CBD + Delta-9 Purpleberry Punch Gummies comes with a QR code linking to both our internal lab reports on the raw CBD oil and the third-party testing on the finished product.
Can't wait to put on your spacesuit and blast off? 
A gentle reminder: these are our most powerful gummies yet. Start slow. Like, really slow. If you're new to THC, take a half gummy, then wait at least 2 hours for the effects to kick in before gradually working your way up to achieve your desired effects.